We welcome you to write back to us to tell how much you love us. My basic qualification pertains to B.E. Metallurgy and by God's grace I had an opportunity to work in world class organizations like Greaves Foseco Ltd., M/s J.K.Engineer's Files, Mahindra & Mahindra Ltd., and several others, but God had already chosen me to serve Him in the capacity of a pastor. So I forsook all secular jobs and opted to get equipped with His Spirit and be filled with His Word and Wisdom. Our son Reuben was hardly one and a half years old when I quit Mahindra but God blessed him and provided him admission exempt from donation since the school was newly started in our neighborhood. Today he is studying in second year commerce and also working in an international call center.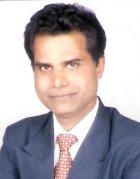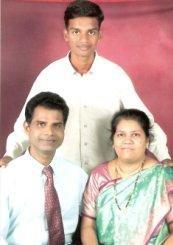 This is our family. Our son Reuben is a hard-working guy, and works for Sitel, an international call centre belonging to Tata group. He is also studying for second year commerce B. Com.
My wife Shubhada is a loving wife and is a trained Montesouri teacher from Y.W.C.A. and has been running a Nursery school for kids attending school for the very first time in their life. So you can imagine the tension they are facing.

The Bible says in Proverbs 25:25, "As cold water to a thirsty soul,so is good news from a far a of country." Brothers and Sisters, I am keenly waiting for one of you to send me an email, writing your comments briefly, making suggestions as how i could make this site more interesting, or better still if you have any special item to give you are welcome. Thank you and may God bless you!