I am extremely glad to welcome you to this site and I greet you all in the precious name of our Lord and Savior, Jesus Christ ! Let me introduce myself, I am Arvind Mantode, a Pastor serving with the Free Methodist Church in Mumbai, India. I am proposing to feature in this site a Ministry which my father had put together and which bears the name of BHARATIYA SUWARTA MISSION and since many of my beloved readers may not be familiar with such typical Indian vernacular pronunciation, I would like to write it's meaning, viz, "INDIAN EVANGELICAL MISSION". This is a Trust, registered with the Government of Maharashtra since December 22, 2003.

Among the many goals of this trust, one of them includes the publication of THE THOMPSON CHAIN-REFERENCE STUDY BIBLE IN MARATHI LANGUAGE.
Marathi is one of the prominent Indian vernacular languages spoken by the people of the the third largest State in India, the State of Maharashtra.

THE PROJECT : After my father, Madhukar S. Mantode retired from the Government service, where he served with the Indian Railways for a period of 33 odd years, he was inspired by the HOLY SPIRIT to contribute his talents and the remaining part of his life for the glory of the Living God. Mr. Mantode is a graduate of Civil Engineering and specialized in R.C.C. Steel and Structure, being a wrangler in Mathematics and extremely good at numbers/figures. So while seeking the Lord's guidance for his future career preferably in the service of the Lord as a thanks-giving offering for having settled all his children in good jobs, and upon being urged by a devout man of God, my father took up the work of translating the THOMPSON CHAIN-REFERENCE STUDY BIBLE from English to Marathi language.

Why was Marathi language chosen for translation?
For one thing, Marathi is our mother-tongue. Secondly, it is spoken by a huge population of the people belonging to the State of Maharashtra. THE THOMPSON CHAIN-REFERENCE STUDY BIBLE IN MARATHI LANGUAGE, is being printed and published by our TRUST bearing the name BHARATIYA SUWARTA MISSION located in INDIA. We have completed the translation of this Bible from English to Marathi language which is one of the more prevalent Indian vernacular languages being the native language of one of the biggest States, the State of Maharashtra. Here majority of the people worship one or more of the 33 millions god or goddess. The Bharatiya Suwarta Mission has pledged to propagate the WORD OF GOD in a more masticated form for the locals/natives to understand it and be delivered from the consequential curse which has overpowered them to the extent of making their lives unbearable. This was the result of worshiping false gods and loathsome idols. We desire through website to attract Believers all over the world to join hands and make this huge project a great success by faithful contribution of their prayers and by sharing the financial burden also.
Please read the entire history of how this great project materialized under the section " President and his wife" and what were the factors responsible for the project to gain momentum and mobilization against formidable barriers that came across the way during it's progress and while reaching it's completion stage. You can very well see that unless the Lord had initiated this project and sustained it through His gracious provision, this project would have hardly been accomplished. It's after our experience with such kind of God's sustenance that we were more and more convinced of the saying so often quoted that, " When God gives a vision, He makes provision too!"
After reading about the complete project if you decide to uphold this project of publishing THE THOMPSON CHAIN-REFERENCE STUDY BIBLE IN MARATHI, a vernacular language belonging to one of the largest States in India, or if you are led by the Holy Spirit to send in your contributions to facilitate printing of more copies of this study Bible then please make your payments to the Bharatiya Suwarta Mission, a registered charitable (Non-profit) organization, under the Government of Maharashtra State, by making your contributions for the glory of the living God, Lord Jesus Christ through clicking the PayPal button below, Make A Donation.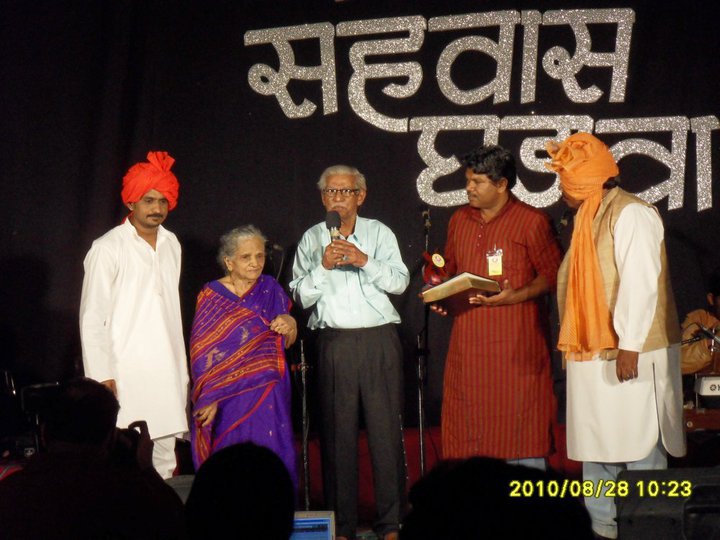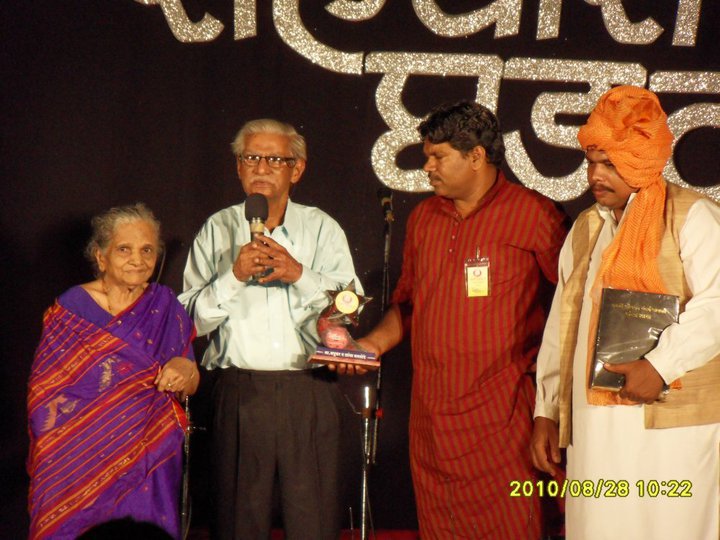 MRS SHANTA & MR MADHUKAR S. MANTODE FELICITATED ON AUGUST 28'10 AT "TAV SAHAVAS GHADAVA" PROGRAM HELD AT VASHI, NAVI MUMBAI

Make a generous donation in to the account of The Bharatiya Suwarta Mission and help us save the world from disaster!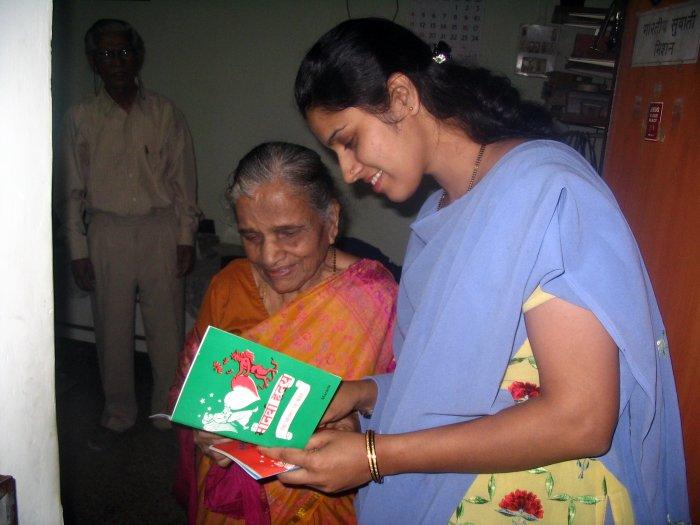 Serving with a glow
Please pray because we have recently rented a room 20'x20' to start Bible Study and Worship every Sunday evening. Also with the assistance from Seva Bharati, we are planning to initiate a CHILDREN CLUB and Adult Literacy classes for elderly women.
The Activities which BHARATIYA SUWARTA MISSION is involved in are as follows:
1) Publication of THE THOMPSON CHAIN-REFERENCE STUDY BIBLE IN MARATHI LANGUAGE, an Indian vernacular language.
2) Presently involved in the translation of this Bible in another Indian vernacular language, viz., HINDI.
3) Church Planting in Ambedkar Nagar, Ambernath. District Thane, State Maharashtra.
4) Speaking Assignments are welcome.
In Conferences, Seminars, Rallies, Christian Functions and Festivals like: Christmas, Easter Sunday Good Friday, News Year's Eve etc.
5) We conduct Vacation Bible School for children.
6) We are praying for having an PASTORAL ORIENTATION, TRAINING AND RETREAT PROGRAM.
For this we would need to raise funds to the extent of buying certain area of land and then constructing a Seminar Hall, Lodging and Boarding rooms, Mess Facility and Recreation.
7) We are in the course of preparing a project report for one of our most cherished activity viz., that of showing JESUS FILM in about 17 villages located in Taluqa Yadgir, District Gulbarga, State Karnataka.
For this venture to succeed we are in urgent need of one LCD PROJECTOR. Your earnest prayers for the divine provision of meeting the financial need of Rs One Lac. will be highly appreciated.
8) We prayer for the sick and they are healed though whatever disease they may be suffering. So your prayer requests are welcome.